Faber-Castell is an often-neglected manufacturer of fountain pens. I have three of their Looms which are wonderful entry-level pens with very smooth steel nibs. Despite the Loom's good looks, low price, and lovely writing experience, they are rarely mentioned in recommendations for beginners, in favour of Lamy Safaris and Pilot Metropolitains. This neglect is repeated in their mid-market pens too, which is a real shame. Hopeful, we at United Inkdom can counter this a little.
Executive Pens Direct lent us at UI an e-Motion Parquet Black to test drive, so I am doing a joint review with my own e-Motion Pure Black.

Looks
The Parquet pen features very shiny chrome-plated cap and trims, with a high gloss black parquet resin barrel. The cap features the Faber-Castell name and logo (as most, if not all, of their pens do) and has a hinged clip. In fact, the finish is so shiny it was pretty tricky to get anything approaching a decent photograph of it.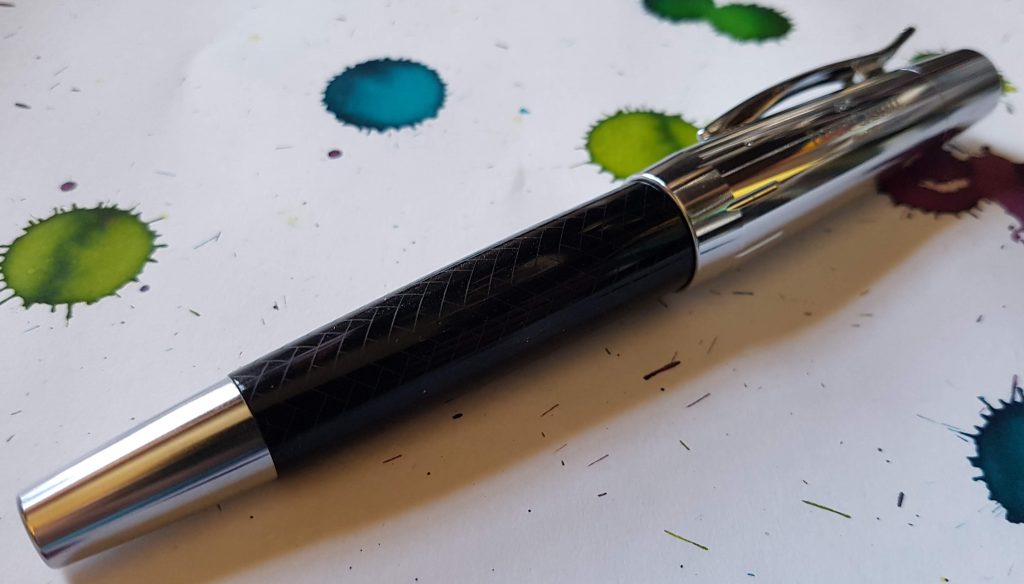 The Pure Black is a different beast altogether. Although the same size and shape as the Parquet, the Pure Black is completely black and completely matt. Even the nib is black. It's the Batman of pens (more so than the bat patterned Montegrappa Batman pen, IMO). The anodized aluminium barrel has a guilloche pattern which adds some interest and grip. The cap has the same engraved name and logo, and hinged clip as the Parquet.
Feel
The most obvious difference when using the two pens is weight. The Parquet, with its resin barrel, is an average weight fountain pen which should be manageable by most people. The Pure Black is considerably heavier and, combined with the pens fat barrel size, it may not suit every hand.
However, the writing experience with both pens is great. F-C make excellent steel nibs: smooth and wet and a real pleasure to write with. The nibs in their lower priced pens are the same, which is why I am so disappointed that F-C pens are so often overlooked. For reasons I am not at all clear on, it seems to be tricky to get anything other than a medium nib on F-C pens in the UK. Not impossible, but certainly tricky. I'm ok with an M but choice would be good. The M is comparable with other German M nibs, like the Lamy, but a wider line than a Japanese M, so if you prefer your pen strokes slim, I recommend you search for a stockist with EF or F nibs.
Value
These are low mid-range pens which pack a lot of punch for the price. The Parquet is currently available from Executive Pens Direct for £78 (reduced from £87) and the Pure Black for £128 (down from £150). You should expect to pay in the region of £70-80 and £110-130 respectively. From experience, the Pure Black will take quite a bashing. It feels like a tank. I was given mine for my birthday three years ago and it's been filled and in light use almost constantly in that time, carted around in my pencil case or on my desk. It can be prone to hard starts if it's been left unused for a while, but that's not unusual. The finish has held up well, especially compared to Lamy Al-Stars which seem to scratch fairly easily.
As is no doubt clear, I'm a fan of F-C pens. They're solid, reliable pens with some smart design features and they look great.