A few months ago, I reviewed Start Bay's rather gorgeous A5 traveler's notebook cover. Start Bay have kindly sent United Inkdom another model to test out: the Navigator A5 Slim.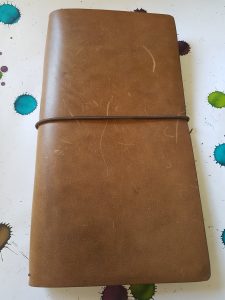 Size
This is marketed as "A5 slim." This type of sizing has been appearing more frequently recently and, I have to say, I find it really irritating. A5 is an international standard size (210mm x 145mm), as defined by ISO 216. It's used world-wide except in Canada, the USA, Mexico, and the Dominican Republic. The sizing is not arbitrary: it's governed by aspect ratio. So, if you cut an A4 piece of paper in half width-ways, you'll get an A5 piece of paper which is in the same proportions as the A4 was. It's very neat. However, if you take an A5 sheet of paper and trim some off the side, you lose the aspect ratio and don't have an "A5 slim" because
A5 slim is not a thing.
If it is less than 145mm wide, it's not A5. If you buy a kilo of cheese, the supermarket doesn't get to call it "1kg lite" and give you 780g.
The Start Bay TN cover reviewed here is the same size as the Midori 'standard/regular' size, and calling it that seems to me to be more helpful and accurate. Who knows what size inserts an "A5 slim" takes? Whereas, it's easy to find standard size TN inserts.
Rant over.
Look and Feel
The TN comes wrapped in a fabric cover. It looks gorgeous. I'm not sure I'd use this as a cover day to day though. The leather looks like it will age well with some scuffs and bumps, and I try to reduce the fuss and fankle of additional bags and pouches unless they're useful.
The leather is their "vintage" colour and is lighter than the Start Bay TN I reviewed before and while I probably wouldn't have chosen this shade had I not seen it in the flesh, it's actually really lovely. It's a softer leather than the Navigator but is still moderately stiff. What you prefer in this respect is down to taste: my own TN is made from very soft, floppy leather (review to come), which don't suit everyone. This, and the very stiff leather of the Navigator, feel more hard wearing and like they'd stand up to being thrown around a bag everyday than soft leathers.
The finishing and details on these TNs is very good. As well as the fabric pouch, they are discretely embossed with Start Bay on the back. The company now offer their own branded notebooks to go inside. These have kraft covers which match the leather browns nicely, and attractive writing-themed cover designs with an inkwell on the dot grid and a dip pen on the plain. They are currently only available for the standard size (this one) and in dot grid or plain paper. The dot grid has soft blue dots. The plain paper feels thick and good quality, but I didn't do a pen test on either.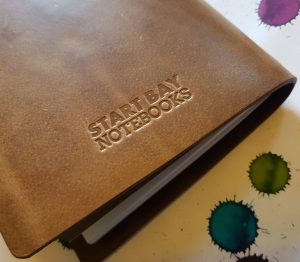 Verdict
I continue to be impressed by Start Bay. This is a lovely piece which will age well, and last. It's got a classic look and high quality, unobtrusive detailing which should appeal to many people. Were I in the market for a new TN, Start Bay would be my first port of call.