A surprise winner in the Pocket Notebooks stash was the tiny Silvine Originals Pocket Notebook. Silvine kindly sent a few of us United Inkdom reviewers some additional products to test out.
As I said before, I didn't expect much from the tiny Pocket, but its unassuming plain cover hid some pretty impressive paper. The pages admirably handled everything I threw at it. The paper is pure white, unlined in the case of the Pocket, and noticeably thicker than most notebooks. It has a little texture to it, but not a huge amount. It might even handle a bit of watercolour.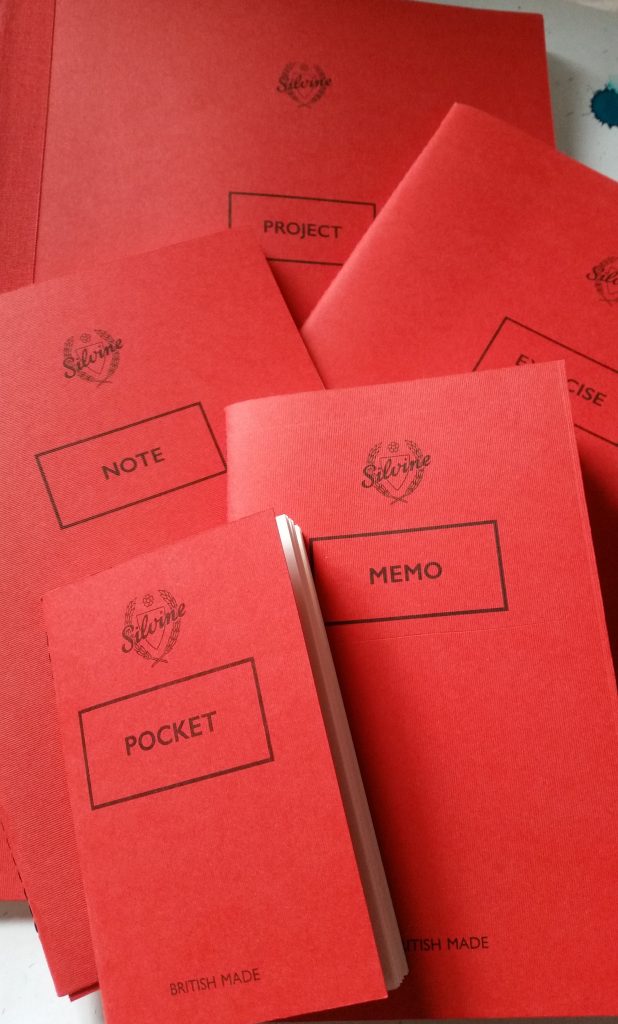 Memo £4.50 (ruled)
This is a handy pocket notebook at 97mm x 159mm, 52 perforated pages, and stitched binding. It might make a good bullet journal if you find the much-loved Leuchtturm 1917 option too bulky to carry around.
I wasn't especially happy with the lines, and this goes for all of the Silvine ruled notebooks reviewed here. For me, the bright blue jars with the red cover and stands very starkly against the white paper. I prefer something more subtle, but this is a design choice that's central to the branding so I don't see it changing any time soon. The line spacing is 7mm which isn't little too wide. It does have the feel of an old fashioned notebook as a result of the blue lines, but I don't think it looks good. I'd definitely use this notebook with plain paper, or a dot grid provided it wasn't printed in the same blue as the lines, but unfortunately, Silvine currently only manufacture this size with ruled pages.
Note £6 (plain)
This is a great sized notebook (125mm x 190mm and 52 pages). This would be an ideal TN notebook due to the high quality of the paper, but isn't the right size. I'd be keen to see it in Traveler's Notebook proportions (in addition to the Note size rather than instead). This was my favourite notebook of those sent by Silvine. It's a nice size, and the plain paper is beautifully smooth. I can see me buying more of these.
Exercise £7 (ruled)
This is another nice sized notebook (162mm x 230mm, 52 pages), intentionally reminiscent of school jotters. This too is a stitched binding with perforated pages, so it opens flat. This time, there is a red margin on the right. I quite like that, and think it might be nicer to have it paired with grey, or even red, line ruling. I just can't get on board with that blue!
Project £14 (plain and squared)
This is a bigger book, slightly narrower and taller than A4 in size (200mm x 305mm) with plain and squared pages (squared recto and blank verso). It's a multi-signature sewn binding with a spine, so is different from the other, single signature, notebooks made by Silvine. This allows more pages, and manages the weight of the increased size. It reminds me of softback version of school lab books. It's a good size, and I can imagine that the squared and plain paper have many uses beyond drawing your Chemistry apparatus.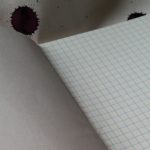 Overall
Pros:
lovely paper that is a pleasure to write on (particularly the plain paper)
classic, old school look
handy range of sizes
manufactured to high standards in Yorkshire, not mass produced cheaply (though this may make it difficult to get and pricey for non-Europeans)
sewn binding lies flat
Cons:
limited range of size-rule types mean you might not be able to get the ruling you want in the right size
bright blue lines are a bit of an acquired taste
non-standard sizes may not be convenient
no dot grid option
'untidy' finishing of sewing might annoy perfectionists
N.B. Silvine sent these samples in return for an unbiased review. Prices indicated were taken from the Silvine website and were correct at time of publishing. Other retailers may vary.