I delightedly receivved some samples of KWZ ink from the lovely people at Pure Pens as part of a meta-review for United Inkdom. KWZ inks are made by Chemistry PhD student Konrad Żurawski in Poland and come in a variety of colours and types, including iron gall and waterproof varieties. I'm reviewing some green and blues here.
Azure #5
Azure #5 is surprisingly dark for the title "azure" but it's a lovely, saturated dark royal blue. It reminds me of Diamine Majestic Blue but without the red sheen. It's definitely a colour that you could use for more formal situations where a restrained, but still a little interesting, ink is called for. It's a nice, wet ink, but I don't see it replacing Majestic Blue for me.
Green #3
Again, this is a nice, solid dark-ish green without sheen. There's some nice shading with it, and it's free-flowing and wet. It's not hugely exciting though. It's a little darker and less blue-toned than Robert Oster Emerald, as you can (hopefully!) see from the side-by-side below.
Foggy Green
Foggy Green is a far more unusual ink than the previous two. It's difficult to describe, and I suspect the pictures don't convey how it really looks. Even the name doesn't suggest, to me at least, the real colour. It's a very dark green, with a grey rather than black tone. The written sample (using a glass dip pen) is very dark, but still definitely grey-green rather than black. The grey tone is more apparent in the swab below, and is what stops it seeming black.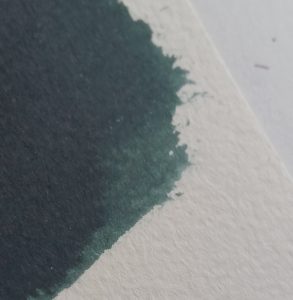 Blue-Black
I'm not a blue-black fan. I've tried a few (Diamine Twilight, Pelikan Edelstein Tanzanite) but can't quite get on board. I like my blacks to look like the staring void. I like my blues bright and interesting. Blue-blacks are the worst of both worlds. However, I was pleasantly surprised with KWZ Blue-Black.

Like Foggy Green, it's a grey-toned colour, but very dark in the glass pen writing sample. The colour of the swab shows the lovely shading of this ink best.
My one concern about KWZ inks is the smell, though. Foggy Green and Blue-Black in particular smell very strongly. It disappears by the time the ink dries on the paper, but the wet ink reeks. Even just opening the sample bottles (which contain about 4ml of ink) releases a horrible chemical smell. It's a strange, plasticy, synthetic smell that lingers for a few minutes after filling the pen. It's off-putting, but at least it doesn't last.