The lovely Stu over at Pocket Notebooks sent some United Inkdom members a bumper pack of small notebooks to review. I received a really nicely presented box containing 6 approx. A6 notebooks, and a tiny wee Silvine.
All of these notebooks should be able to handle fountain pens, so I decided to put the manufacturers' claims to the test with a variety of pens and inks. I selected a variety of purple inks for no particular reason except I like purple. Here are the pens I used:
From bottom to top (the order used in the tests):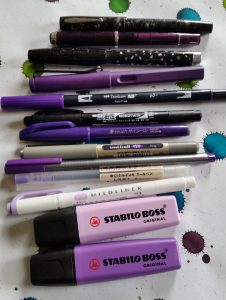 Stabilo Boss purple highlighter
Stabilo Boss pastel purple highlighter
Zebra Mildliner soft purple
Muji gel pen (0.5mm)
Staedtler Triplus Fineliner
Uni-ball Eye (fine)
Pentel Touch brush sign pen
Tombow Mono Twin
Tombow ABT (636 Imperial Purple)
Lamy Safari fountain pen, M nib with Pelikan Edelstein Amethyst ink
Faber-Castell Basic fountain pen, EF nib, with Diamine Grape ink
Pelikan P405 fountain pen, gold EF nib, with Diamine Imperial Purple ink
Vintage Waterman fountain pen, flexible italic nib, with Diamine Asa Blue ink
The Tombow Mono Twin is a permanent, solvent-based ink, which I expected to go through the paper. You would be hard pushed to find through which the Mono Twin wouldn't bleed- what I was checking here was how well the notebooks stood up to potential feathering with this pen, so judge the results on that rather than bleed.
The vintage Waterman is a VERY wet writer, so this really tested how well the notebooks could deal with a lot of ink. The results were somewhat surprising.
Silvine Pocket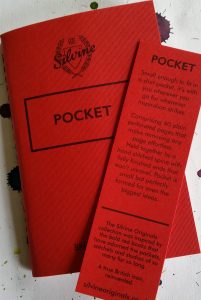 This teeny-tiny notebook is on 110mm x 72mm and 40 pages in size, but is nonetheless an impressive piece of writing kit. They retail for £7.00 for 3 (approx. €8.25 or $9 US). The paper is plain, off-white, and the notebook has a sewn binding.
This unassuming wee notebook was one of the best at standing up to the rigours of the pen test.
None of the pens tested feathered at all, which was impressive. The Mono Twin did bleed through a little but there was no ghosting apart from that.
I'd definitely put Silvine notebooks on my To Buy List, but not this small. I'd be interested in an A5 notebook from this manufacturer if it had the same thick, off-white paper. The tiny pocket would get chewed up in my bag.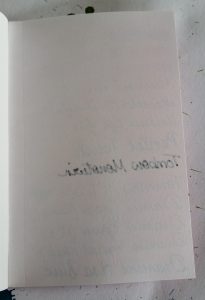 The California Back Pocket Journal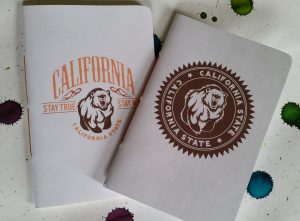 These notebooks are slightly smaller than A5 at 88mm x 133mm and have 48 sheets, and a sewn (pamphlet stitch) binding. They're available in lined, blank (as here), dot grid, graph, or a mixture of plain, lined, and dot grid, and are 3 for £10.50. The paper is 105gsm HP paper which is incredibly smooth.
The paper feels lovely, and handled everything except the very wet vintage nib, which, as you can see, feathered terribly and bled through the page. The bleed through on this was even worse than that of the Mono Twin. This was by far the worst result for the Waterman, which is surprising when everything else fared so well. There was hardly even any ghosting.
The Waterman result aside, this is a nice little notebook.
Another California Back Pocket: Tomoe River Paper
This appears almost identical to the previous, except it contains glorious Japanese Tomoe River paper. This is ivory-coloured and very thin, but can take just about anything a fountain pen can throw at it. I used a Hobonichi diary last year which was made from Tomoe River paper and have been a big fan ever since. It's definitely worth the hype. Three of the California notebooks retail at £14.
The test results for this notebook are not at all surprising: no bleed through except for a small amount with the Mono Twin; no feathering; some ghosting due to how thin the paper is. The latter will bother some people but I don't mind it. Tomoe River paper is a pleasure to write on.
Inky Fingers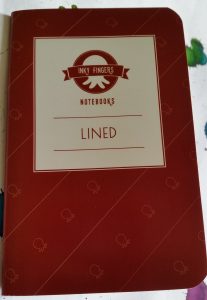 This is the same size as the California notebooks, but has a coated cover which is a little stronger. It consists of 44 sheets of environmentally-friendly and sustainable wheat straw paper. It feels a little like recycled paper, having more texture than the other papers reviewed here, but doesn't have the drawbacks of feathering and bleeding usually associated with recycled paper. The paper is white with very subtle specks, and the notebook is staple-bound.
This is a nice notebook, but at £6 each, they're pricey. For my money, I'd rather get a Tomoe River notebook for £4.67, though I appreciate the environmentally-sustainable way the Inky Fingers notebooks are made.
The lines are narrow at 6mm, which I like. The lines are made of micro-dots which is a nice detail.
Also available are a blank notebook, and a Currently Inked Log book for the same price.
Clairefontaine 1951 Retro Nova
French company Clairefontaine make a variety of notebooks and jotters, supplying a lot of French schoolchildren with their classroom needs. They're a favourite manufacturer of mine because of their high-quality paper, wide range, and good prices.
The Retro Nova is marginally bigger than the previous notebooks at 88mm x 140mm with 64 smooth ivory pages, and a sewn binding. They are 3 for £8, which is a stone cold bargain. Each of the three has a different cover pattern too. The one pictured here is "novelle vague."
The pen test showed just how good Clairefontaine paper is. There was no feathering, minimal ghosting, and only the infamous Mono Twin bled through.
Story Supply Co.
Beneath a plain exterior decorated only by the Story Supply co.'s cheerful, retro logo, lies a solid little notebook. It's 90mm x 140mm, with 48 pages of staple-bound, off-white paper. I tested the lined notebook, which has 5mm spacing. This retails at 3 for £11.
I wasn't familiar with this company before, and was pleasantly surprised by how well the paper dealt with all of the pens. There was no feathering, little ghosting, and only the Mono Twin bled through (though there were slight hints of almost-bleeding through from the Waterman).
I liked this notebook a lot, but if pushed would have to state a preference for the Clairefontaine above. The Story Supply Co. paper is not quite as good, and it's an extra £1 per notebook, for an inferior binding.
Darkstar Nomad
This is a differently sized notebook at 100mm x 140mm, so it looks a bit squarer than the others. It has 56 pages of white, dot grid, 100gsm paper and is staple-bound. Interestingly, the 'dots' are tiny crosses. These cost £8 for 3.
The Darkstar handled most of the pens well but the Waterman and even the Pentel Touch (which is also a wet writer) both feathered slightly. The Mono Twin and the Waterman bled through the paper, though the ghosting wasn't bad at all.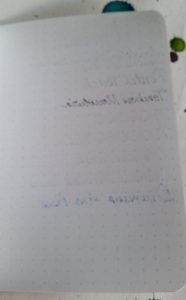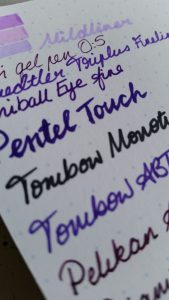 Final Thoughts
This was a really interesting set of notebooks and I'm very grateful for the chance to test them all. My favourites were the Clairefontaine and the California Tomoe River. The Clairefontaine is the ideal combination of high quality and good value. The Tomoe River is a higher price for a specialist product that some people (like me) will love but  may find the ghosting and long ink-drying times a frustration.